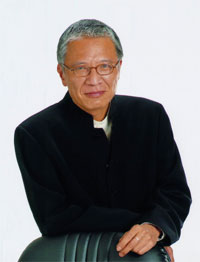 宋秩铭先生自1974年加入传播领域,至今已有近30年的工作经验。 1980年加入台湾国泰建业集团。1981年国泰和奥美集团建立了技术合作关系,将西方的广告观念及系统带入国泰。1985年,国泰和奥美共同创立了台湾奥美广告公司--台湾第一家中外合资的广告代理商。宋秩铭先生担任新公司的经营管理人员。且在短短数年中陆续增设了公关、顾客关系行销、视觉管理顾问及行动营销公司。他是台湾4A协会的创始人之一,也担任第一任的会长。
    1992年担任中国区董事长,开始负责开发中国市场,直至今日,已在上海、北京、广州及福州等地设置代理商,服务中国地区的客户。
    1994年并负责香港市场,成为大中华区的董事长(中国大陆、台湾及香港)。
    1998年成为奥美国际的董事会成员。目前,奥美在大中华区是最大的传播集团,在6个城市,有20余家公司。
    宋先生以他丰富的各种传播领域之经验,协助许多不同产业之客户解决沟通与协调上的问题。且他能敏锐的掌控运用国际的广告经营模式和策略行销,并将其套用在台湾和中国大陆市场上。
    Mr. T. B. Song (宋秩铭)
    Chairman of O&M Greater China
    Mr.T.B. Song has worked in the communications industry for almost 30 years since 1974.
    His advertising career began at Kuo Hwa Advertising as an Account Executive, and for the next six years he worked in a number of agencies including Hwa Wei (now Grey), United and China Commercial Advertising (now FCB).
    T. B. joined Cathay Advertising in 1980; and was instrumental in the establishment, in 1981, of a technical relationship between Cathay and Ogilvy & Mather Worldwide. This led to the introduction, into Cathay, of western advertising concepts and systems. In 1985, Cathay and O&M created a joint venture company and Ogilvy & Mather Taiwan was established, which was the first agency in Taiwan with foreign investment, with T.B. as the new Managing Director. Within a few years, T.B. had set up the PR, Ogilvy One, EIG and Activation disciplines.
    He was also one of the founders of Taiwan's Association of Accredited Advertising Agencies. He served as its first Chairman and has actively worked to develop the professionalism of the advertising industry in Taiwan.
    In 1992, T.B.'s responsibilities were expanded with his appointment as Chairman of O&M China; responsible for the development of the mainland China market. Previously, he had developed agencies in Shanghai, Beijing, Guangzhou and Fuzhou.
    In 1994, T.B. became the Chairman of O&M Greater China (Mainland China, Taiwan and Hong Kong).
    In 1998, T.B. became member of O&M Worldwide board. Ogilvy is the largest communication group in China which has more than 20 companies in 6 cities.
    T. B. brings extensive experience in handling a broad spectrum of clients in all aspects of communication. He has a keen grasp of how to apply international advertising operating methods, and strategic marketing, to both the Taiwan and mainland China markets.